Concert details: Sunday 1 July at 1pm in Rathfarnham Castle, Dublin.
Get Tickets Here!
The Irish Guitar Quartet is drawn from some of Ireland's most talented and versatile classical guitarists and is one of Ireland's premier instrumental ensembles. 
IGQ members Jerry Creedon, David Keating, Caoilfhionn Ní Choileain and Aengus Kirakowski have garnered acclaim as soloists on concert stages around the world,  with each member contributing their individual strengths toward creating an exciting, dynamic and engaging ensemble.
The Programme including Latin, Folk and American Classics transports listeners around the world in a single concert experience. For more see: www.irishguitarquartet.com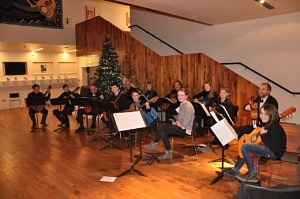 The Wexford Guitar Ensemble was formed in 2017 as a joint project by Music Network, the National Opera House, and Wexford County Council and was originally a forum for guitarists from all backgrounds and ages to enhance their ensemble skills and gain further performance experience. Under the direction of renowned Irish guitarist Alec O'Leary the WGE has now fast established itself as the South East's leading amateur guitar orchestra with members from Wexford, Dublin, Kilkenny and Wicklow. Over the course of this community based project, the Wexford Guitar Ensemble have taken a new and exciting approach to performing a wide variety of large scale pieces from Handel to Michael Jackson. Through a blend of unique arrangements of guitar favourites and more modern music, the WGE strive to showcase the voice of the guitar in a way that has never been heard before and to present programs of high quality that are both musically meaningful as well as interesting from a performer's perspective and audience alike. The ensemble has proven to be very successful already with their first performance in the National Opera House, Wexford in 2017. The Wexford Guitar Ensemble will perform a joint concert with the Irish Guitar Quartet on 1 July in Dublin as part of the Guitar Festival of Ireland.
Current WGE members: Joe O'Brien, Paul Colfer, Aeden Moylan, T.J Redmond, Frankie Lowney, Ben Bone, Croí Burrowes, Philip Large, Jean Kinch, Eimear O'Connor and Michael McIver.