Gig details: Sat. 30th June, 2018 at 8:30pm in Bello Bar Portobello, Dublin.
Get Tickets Here!
'Doyle on guitar has risen to a level occupied by him alone. No one in Irish traditional music is a better guitarist than him right now. His chops, always assured and adroit, have now entered a rarefied zone of inspired, instinctive, in-the-moment creativity that made me gasp in awe and for breath. In my Wall Street Journal article on him this past March, I described John as one of the world's best acoustic guitarists. I now think that may be an understatement. In addition, his vocal delivery and his songwriting have never been more impressive, reaching an apogee in "The Arabic," where his singing and guitar accompaniment (this is really a misnomer: his self-backing and instrumental fills and runs on guitar constituted a tour de force in and of themselves) on his own song were unforgettable. What are they putting in the potable water where John resides that has made him so mind-vaultingly good?'

—

The Wall Street Journal
'
Name many of the most notable recordings and/or performers in Irish music and it's a fair bet that John Doyle had something to do with them.  Liz Carroll; Eileen Ivers; Karan Casey; Solas; Michael Black; Mary Black; the trio of McCusker, McGoldrick and Doyle; The Teetotalers (Martin Hayes, Kevin Crawford, John Doyle); and now Usher's Island (Andy Irvine, Donal Lunny, Mike McGoldrick, Paddy Glackin and John Doyle) – a vertible who's who of the greatest names in Irish music.  These are just a very few of the stellar artists for whom John Doyle's signature guitar sound, singing or songwriting is essential.
From a musical family in Dublin, John's influences include well known English folk singers Nic Jones, Martin Carthy, Richard Thompson, and The Watersons; Scottish singers Dick Gaughan and John Martin; and fellow Irishmen Paul Brady and Al O'Donnell as well as his father, Sean Doyle – probably the biggest influence of all. John went on the road as a pro at 16 with the group Chanting House which he formed with Susan McKeown and which eventually included such great players as Seamus Egan, Eileen Ivers, & Donogh Hennessy.  John went on to form the highly acclaimed super group, Solas, with Seamus Egan, John Williams, Karan Casey and Winifred Horan which took the folk and Celtic music worlds by storm, in no small part due to John's powerhouse rhythmic guitar style and innovative arrangements. As a member of Solas, John performed to sold out audiences nationally and internationally as well as appearing on many national TV and radio programs: NBC's The Today Show, various programs for National Public Radio and Public Radio International, A Prairie Home Companion, Mountain Stage, E-Town and World Cafe as part of that critically acclaimed group, he also received three NAIRD awards and a Grammy nomination for the band's self-titled first recording.
After leaving Solas, John has gone on to perform and tour with other greats in the Folk, Celtic and Bluegrass worlds – as music director for folk icon Joan Baez, guitarist for Mary Chapin Carpenter, Eileen Ivers, Tim O'Brien (John was included on Tim's 2006 Grammy-award winning CD, Fiddler's Green), Linda Thompson, Kate Rusby, Cathie Ryan, Cherish the Ladies, and many others. He has appeared on soundtracks for the feature film, The Brothers McMullan, Soldier, PBS's Out of Ireland and also composed the music for the film Uncle Robert's Footsteps and the play Down the Flats as well as performing on countless recordings as guitarist and/or singer for other notable artists such as Kate Rusby, Linda Thompson, Tim O'Brien, Alison Brown, Seamus Egan, Eileen Ivers, Mick Moloney, Cathal McConnell, Karan Casey and so many others (check out the discography page for a full list). John is a featured regular for many years in the hugely popular BBC Scotland "Transatlantic Sessions" regularly broadcast in Ireland and at the Celtic Connections Festival in Glasgow having performed there with Americana greats Jerry Douglas, Tim O'Brien, Rodney Crowell, Sara Watkins, Kathy Mattea, and many others.
There are few artists more respected in the genre or more in demand in the studio, as songwriter, as performer.  A few recent highlights listed below:
2009, St. Patrick's Day  –  Performed as duo of Liz Carroll/John Doyle for President Obama, the full U.S Congress, Vice-President Biden, and then Taoiseach Brian Cowan
2010 – Received Grammy Nomination for "Best Traditional World Album" for "Double Play", Liz Carroll and John Doyle
2008-2010 – Toured with Joan Baez as her Music Director/guitarist/singer
2014–  Guitarist with Mary Chapin Carpenter
In recent years, John has focused primarily on writing songs based on the varied experiences of Irish emmigrants – his great grandfather on the torpedoed S.S. Arabic in 1915; famine victims on the coffin ships to Quebec; Confederate and Union Irish fighting against one another at Fredericksburg; an Irishman's journey through the First World War.  In reviews, these songs on Doyle's 2012 release, "Shadow and Light" have been said "to be destined to be classics in the Irish folk music songbook. His talents as songwriter are rare and exquisite."
SEAMIE O'DOWD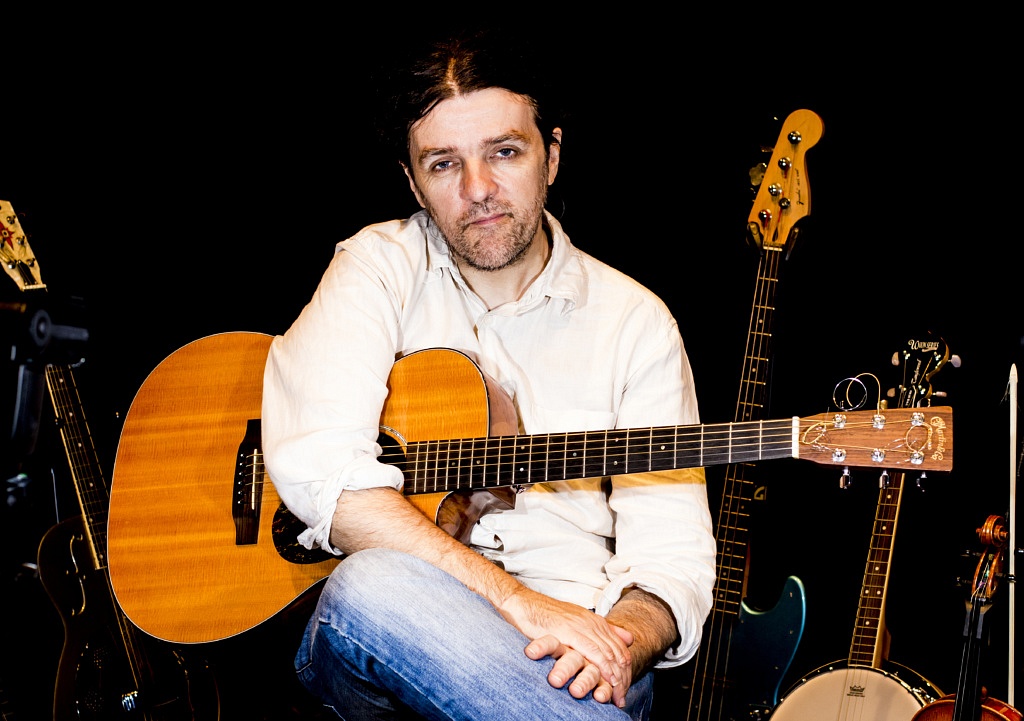 Traditional Irish, Folk, Blues and Contemporary Music
Seamie O Dowd is a guitarist,singer, and songwriter who also plays fiddle,harmonica,mandolin,and a number of other instruments. He has travelled worldwide playing music and has shared stages and played with many great musicians and bands including; Mairtin O'Connor, Cathal Hayden, Christy Moore, The Chieftains, Jimmy Higgins, Tommy Emmanuel, Dervish,Steve Wickham,Matt Molloy, Liam O'Flynn,Thom Moore, Dick Gaughan, Cathy Jordan, Rick Epping, Kieran Quinn, John Joe Kelly. Aminah Hughes and many others.
His experience also includes recording production, teaching and more recently, film soundtrack work, and encompasses solo performance as well as extensive work with bands and small groups as both a member and a session musician.
His solo performances have been described as being able to rival any band.
PRESS QUOTES
"Despite being inspired by such disparate styles and varied influences, O'Dowd's acoustic driven blues and folk tunes have a clarity and timeless simplicity that speaks to everyone"
. –Xpress Mag,Perth,Australia
"a hugely impressive musician and singer".- Irish Music Review
"Seamie is a damn fine musician and it's great to see him getting around and getting the recognition he deserves".-Dick Gaughan.
"Virtuosity bottled and labelled" – Irish Music Magazine